Resource Partners
---
Mint Newspaper
---
Mint is a business newspaper from HT Media Ltd, launched in collaboration with The Wall Street Journal on 1 February 2007. It is a premium business news publication aimed at decision makers and policy makers of the country and it is the first newspaper in India to be published in the Berliner format.
Click for content
---
Information and Communication Technology Agency (ICTA)
---
Information and Communications Technology (ICT) is an increasingly powerful tool for participating in global markets, promoting political accountability, improving the delivery of basic services and enhancing local development opportunities. However, without an innovative ICT strategy many people will be left behind. The Information and Communication Technology Agency (ICTA) of Sri Lanka is the single apex body involved in ICT policy and direction for the nation. Wholly owned by the Government of Sri Lanka, ICTA is the implementing organization of the e-Sri Lanka Initiative. Major donors including the World Bank will be funding a number of the Agency's initiatives.
Click for Content
---
mBillionth Award South Asia
---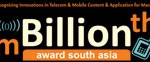 The beginning was bit uncertain, convictions had little doubts but the journey so far has been encouraging as well as interesting. The mBillionth Awards in 2010, launch year, and now in 3rd year it is turning into a pool of m-knowledge, m-innovations as well as m-strategies and m-thinking with minds from India and South Asia all set to prove that mobile is next m-powering tool in one of the most populous as well as happening region. As the curtain of mBillionth 2012 closes on July 21st, we are all set to celebrate and enjoy once again bright ideas, innovations, practices, robust partnerships through our collective zeal and efforts.
Read More >>
---
Imagination for People
---
Imagination for People (IP) is first and foremost a community of citizens from all over the globe who believe that creativity can be used in practical ways to make a positive social impact. Basically, we believe in imagination for the common good.The goal of IP is twofold. First, it is to identify innovative projects from different countries that showcase the extraordinary imagination of citizens. This includes projects being carried out by individual entrepreneurs or communities of enlightened citizens, visionary public organizations and pioneer companies (i.e. the three "Ps" that Imagination for People likes to refer to-People, Public, Private). Secondly, IP aims to support social entrepreneurs as they start up their projects by giving them access to upcoming collaborative tools that will allow them to mobilize a global movement of collective inventiveness. To do this, IP has decided to set up a web-based platform that is very creative, wiki-citizen (collaborative), international (and therefore multilingual), fun and experiential all at the same time.
Click for content